Hello Lone's blog readers, Jen Mauck here! I'm a writer, client and friend of Lone's for many many years. I'm SO excited to be a guest blogger this month and write about the newest addition to DaneStyles—Lykke Spa. 
Lykke Spa is sweetly nestled in the heart of DaneStyles Salon and is a peaceful, warm and cozy nook of pure utopia. Lykke Spa (Lykke is the Danish word for happy) is bursting with good vibes, as spa specialist, CeeJae, focuses on using natural ancient Ayurvedic techniques to achieve balance and deep relaxation. Of course, Natulique's new earth-friendly, clean, light and luxurious skincare line, Lykkegaard, beautifully compliments these unique massage-focused treatments. Lone told me her mission was for people to just feel happy there, to be deeply relaxed. Well, mission accomplished, Lone. 🙂 Everything about the spa is intoxicating. From the intuitive and decadent skincare, to the magical hands and spirit of CeeJae, Lykke Spa is a little piece of heaven right here in Snohomish—and to think it all began with a hot oil treatment dream and a garage! 
The Vessel and the Garage
When Lone's personal esthetician asked if she were interested in a Shirodhara Copper Vessel, she jumped at the opportunity, as she always wanted to add hot oil hair treatments to her salon services. The copper vessel was even more than she hoped for, as it has a deep-rooted healing history (3000 years to be exact!). The vessel is designed for the ancient Indian Ayurvedic hair and scalp treatment, Shirodhara, and is supposed to ignite a sense of inner calm (yes please!). The vessel pours out a warm herbal oil onto the head, quieting the mind and body.  Lone was completely intrigued by this and the other potential Ayurvedic techniques she could offer.  
This all sounded spectacular, but there were two huge problems—she needed a space for clients to lie down completely flat on a table. And an Ayurvedic specialist. Lone didn't have either. That didn't stop her from being diligent. After pondering around in her salon inventory garage for a while, Lone ultimately knew what she had to do—demo the walls and build it.  What was once a storage space, was now a peaceful cozy spa room, and within a few months Lykke Spa originated. In a serendipitous string of events, CeeJae, certified Ayurvedic specialist and stylist, was looking for a new home for her spa and salon business. The stars aligned for this very moment (que the inspirational music!) and the timing was pure magic. 
The Ayurvedic Vibe
With Lone, there is a deeper sense of care involved in everything she does. It wasn't enough to just have a spa. She wanted a holistic purpose—a place for people to truly find peace and experience care that was unexpected and special. This not only begins with high-quality, natural skincare products, but also with a unique approach to healing and rejuvenating the mind, body and soul. Introducing the ancient Ayurvedic techniques. If you're not familiar with Ayurvedic care, it's an ancient holistic practice that promotes longevity, physical wellness and soul connection using a combination of physical, psychological and spiritual health techniques and remedies. The ancient method is based on the five elements— space, water, warth, fire and air. Each person embodies a unique blend of these elements called Doshas, which help us understand ourselves better and is designed to show us how to achieve true balance and happiness.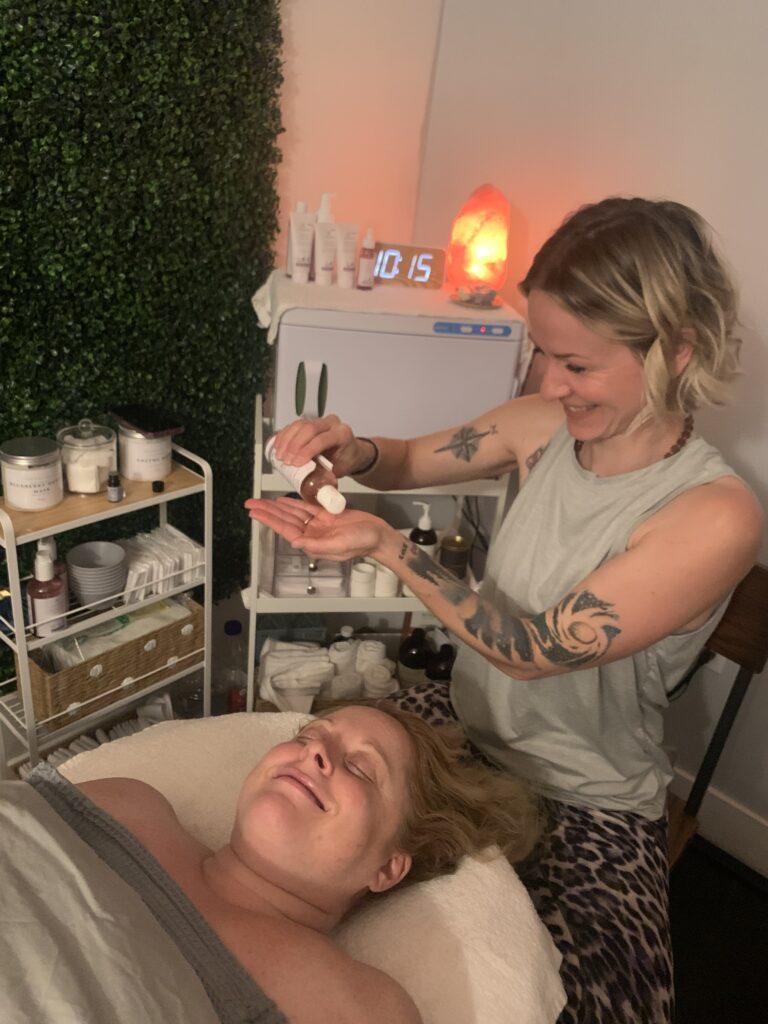 I have had two Ayurvedic spa treatments so far— the Signature Lykke Ayurvedic Facial and the Shirodhara Oil and Massage. CeeJae, certified cosmetologist, Dosha counselor and Ayurveda specialist (basically my new spirit animal! :)) sets the tone with her cool and calming energy and an eagerness to share her passion about Ayurvedic practice and experience. After an enlightening reading of my doshas (which was a really cool experience), CeeJae began the facial with customized aromatherapy, deep breathing and a light neck massage. She continued using products from Lykkegaard, which are so amazing and align perfectly with DaneStyle and Ayurveda core natural values. 
My Love for Lykke
The facial massage was, of course, my favorite. I admit, I'm facial-obsessed. I probably get facials at least once a month, and although I have my go-to estheticians, I do like to enjoy new providers and environments. So, I have something to compare this to. My first thought was it's unusual to receive that much care and attention to detail in the facial massage portion. It usually comes more with exfoliating and hydrating the face—and that's even by default, since they have to put the product on anyways. But this was different. This was special. Lone expressed that one of her main goals for the facial treatments was a truly hands-on facial massage. Non-mechanical. No-fuss. No medical injection or hard bursts of air hitting your face. Just good old-fashioned deep face massage. I appreciate that, and it was the main thing I remember about the entire experience. 
Just as relaxing, but with more swift movements and intensity, is the Kansa facial wand, which she used during my Shirodhara Oil Massage treatment. The Kansa Wand increases oxygen and circulation flow to the face, which gives such an amazing glow.  It's detoxifying and beyond calming! And, CeeJae's massage isn't just a nice rub. It's a rhythm. She is precise and calculated in movement. The results of her ultra-focused treatments are completely game-changing. 
Making a Difference
DaneStyles Salon and Lykke Spa offer distinctive earth-friendly, ethical and sustainable services and products, and a unique Ayurvedic approach to pampering. It is a warm, cozy and peaceful place. The Danes call this Hygge (pronounced "hoo-guh")—a place of cozy contentment and comfort, and represents a value system of living well.  
And, as an immigrant from a Scandinavian country, Lone's fight to build her business and achieve her goals was quite the undertaking. But she is a fighter. And, she knows what she wants.  It's the salon's 2nd birthday soon, and Lone feels so humbled by the insanely talented professionals who work there and grateful for the community of clients who come to relax, share stories, laugh and sometimes cry.  For Lone, that is the ultimate goal—to make a difference in people's lives.